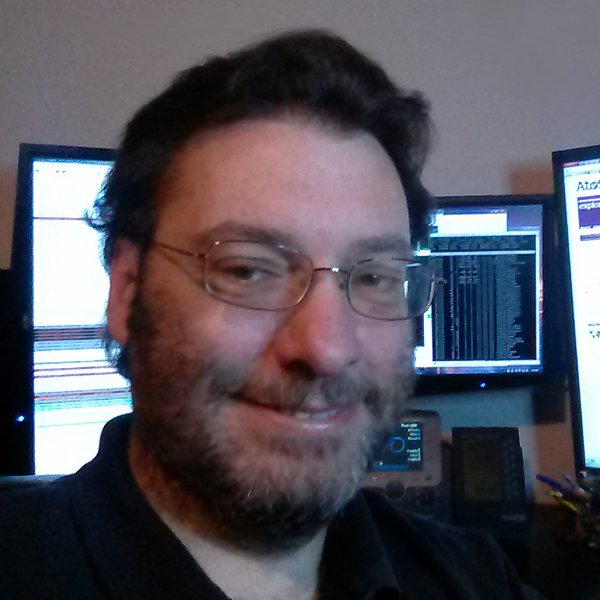 When introducing myself in a business context, I normally introduce myself as "a Linux Geek." I currently work for Atos as a UNIX/Linux Architect.
My love affair with computers began back in 1980, when I was given a TRS-80 Model I (but it was a Level 2 system — it didn't just have the default 4K of memory; it had 16K!). My first experience with UNIX (in this case ULTRIX) was on a DEC MicroVAX II in 1987, which I connected to via a 1200 baud modem.
I first played with Linux on a salvaged PC-MOS system that had a 16mhz 80386 chip, a 5.25″ floppy drive, and two 300MB (yes, megabyte) ESDI hard drives that must have weighed about a twenty pounds each. In 1997 I began using Slackware Linux in conjunction with NCD X-Terminals to run Magic: The Gathering tournaments in the Chicago area (our biggest was over 500 players).
I began using Red Hat Linux starting with version 5.2 (Apollo, from 1998 — not RHEL 5.2 Tikanga), which I bought off the shelf at a local Best Buy store in retail packaging. Red Hat Linux 6.2 (Zoot, from 2000, not Santiago) marked the first chance I got to use Linux at work.
Since those early days of Linux, I've used or played with many different versions and distros of Linux, including (alphabetically) CentOS, Debian, DSL, Fedora, Mandrake, Mandriva, OEL, Red Hat, RHEL, Slackware, SUSE, Ubuntu, and others.
Similarly, over the years I've used or played with many different UNIX family OS's, including (alphabetically) AIX, BSD, HP-UX, IRIX, SunOS, and Solaris.
I became a Red Hat Certified Engineer (RHCE) in 2004, using Red Hat Enterprise Linux (RHEL) 3.0, and since have updated my certification with RHEL 4.0 and 5.0. I became one of a privileged few Red Hat Certified Architects (RHCA) in 2009.